DOOH
DIGITAL SIGNAGE | KIOSKS | VIDEO WALLS
DOOH
DIGITAL SIGNAGE | KIOSKS | VIDEO WALLS
digital signage 3.0
Dynamic signage is an essential tool for any business communication today.
In practical terms, it enables the real-time dissemination of information on screens or interactive kiosks placed in strategic communication locations such as public spaces, points of sale (POS), and common areas within companies.
A NEW ERA FOR YOUR COMMUNICATION
Adapted to their environment, these screens offer several significant advantages. Indeed, they inform your target audience in real-time, create an immediate emotional impact, optimize information retention, and help you save costs on your communication strategy while increasing your ROI.
Of course, digital communication requires careful planning. The distribution of multimedia content requires expertise in all broadcasting platforms, mastery of all the relevant domains, and a blend of technical and artistic know-how. Digital Signage is, therefore, a powerful communication tool that your teams won't be able to do without!
OUR "SWISS MADE" SOLUTION
Welcome to "Digital Signage with a difference."Our team has created DolceVista, THE Digital Signage solution, a program capable of integrating with your existing data sources to optimize your communication and increase productivity.
Because we understand that each client has their own needs and objectives, we have created the tailor-made Digital Signage solution, DolceVista, which fully adapts to all your existing digital content (databases, various media, etc.).
This CMS, unique in Switzerland and developed in-house by our team, is entirely customizable. From its creation to maintenance, including installation, its uniqueness allows us to master every aspect of it, ensuring comprehensive support and management for you.

The hardware we use in our Digital Signage solution consists of a screen connected to a player (Mac mini, iPad, Apple TV, etc.) that transmits your data in real-time. Connected to the internet (or your internal network), the screens, which are also fully customizable, allow you to display information in real-time.
Designed to save you time and optimize your production, our Digital Signage solution is accessible via any internet browser (computer, smartphone, or tablet) at any time and from anywhere. It requires no installation, and the display changes or updates you schedule always occur in real-time.
ONE SINGLE APPLICATION
FOR A UNIQUE DIGITAL SIGNAGE EXPERIENCE
Because we know your time is valuable, you can manage, control, broadcast, create, or modify all your content online effortlessly through our "made in Switzerland" solution, entirely designed and developed in-house.
And as we are aware of the complexity of the hardware required for a digital campaign, we handle all supports and formats: HTML5, jpg, png, keynote, powerpoint, avi, mov, etc., for time-saving and maximum efficiency.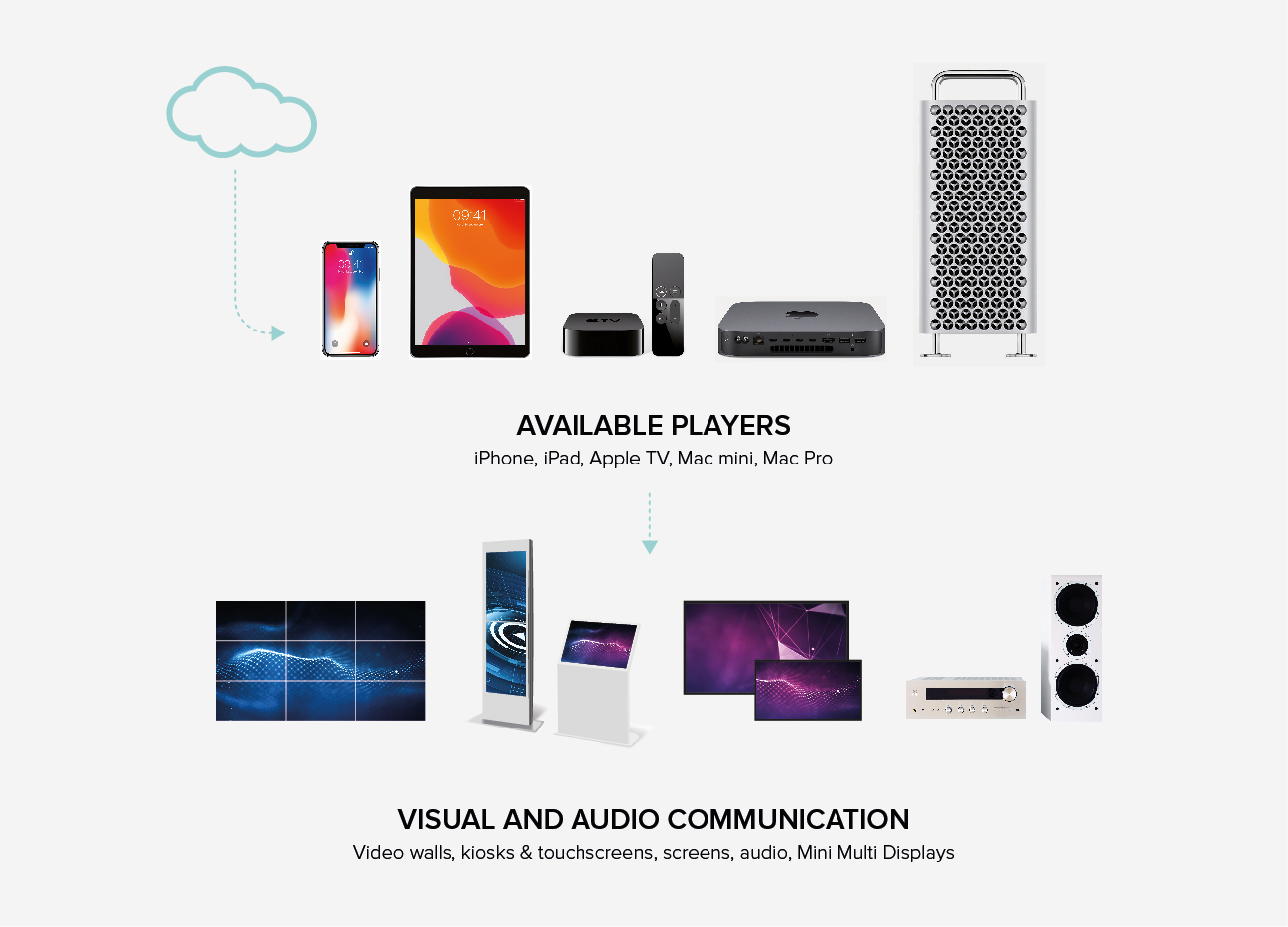 FLEXIBILITY, EFFICIENCY, PERFORMANCE
OPTIMIZE YOUR PERFORMANCE WITH DIGITAL SIGNAGE.
Numerous recent studies have shown that the message conveyed in advertising campaigns is better retained when presented in dynamic signage. In addition to portraying a company as modern and up-to-date, Digital Signage reduces the perceived waiting time and leads to increased sales. It empowers you to excel in communication by enabling you to transmit real-time sales reports, essential information for staff, etc.
The dynamic display of our Digital Signage technology allows you to project a positive image of your company by being relevant in real-time. To achieve this, our DolceVista solution broadcasts your content at the most suitable moments and locations to effectively reach your target audience. The simple remote management of screens (canvas and "drag and drop") ensures that your modifications are maintained instantly, in real-time.
LISTENING TO OUR CUSTOMERS, OUR MOTTO.
Dedicated to providing you with a unique customer experience, we offer comprehensive services, including advice on your environment and its content to optimize the performance of your communication while preserving your visual identity. From corporate design to installation (formats, lighting, layout, wiring, potential intervention from our POSM team, etc.), each project is tailor-made for a fully personalized approach.